Every plant food is unique in their combination of phytochemicals, antioxidants, and polysaccharides. Mushrooms are no different. But what makes mushrooms stand out? Their polysaccharides.
4 tips for selecting mushroom supplements for your immune system
Here are some things you should be looking out for before buying a mushroom supplement to boost your immunity.
#1: Multi-mushroom
Some people rely on products that contain only a single type of mushroom. Maybe they have some very specific needs, like Cordyceps for the respiratory system.
But if you really want to boost your immunity, you are better off with a variety of mushrooms rather than a single type.
#2: Reliable manufacturer
You also need to find a manufacturer who does all the research and toxicity testing for you so that you can take the supplement with peace of mind.
#3: Minimal additives
You will want to have as little additive as possible because while some is there to preserve product quality, others are simply there for taste, to lengthen shelf life, or to make up for what the product packaging cannot do.
#4: Your needs
Are you already taking a mushroom supplement?
Do you like the taste of mushrooms?
Are you okay with swallowing capsules?
Do you need a specific type of mushroom included?
Do you have a health condition that requires you to consult your doctor before taking the supplement?
These are some of the questions you should answer because they determine what kind of product is suitable for you.
Nutriact & E-Munity: 2 great options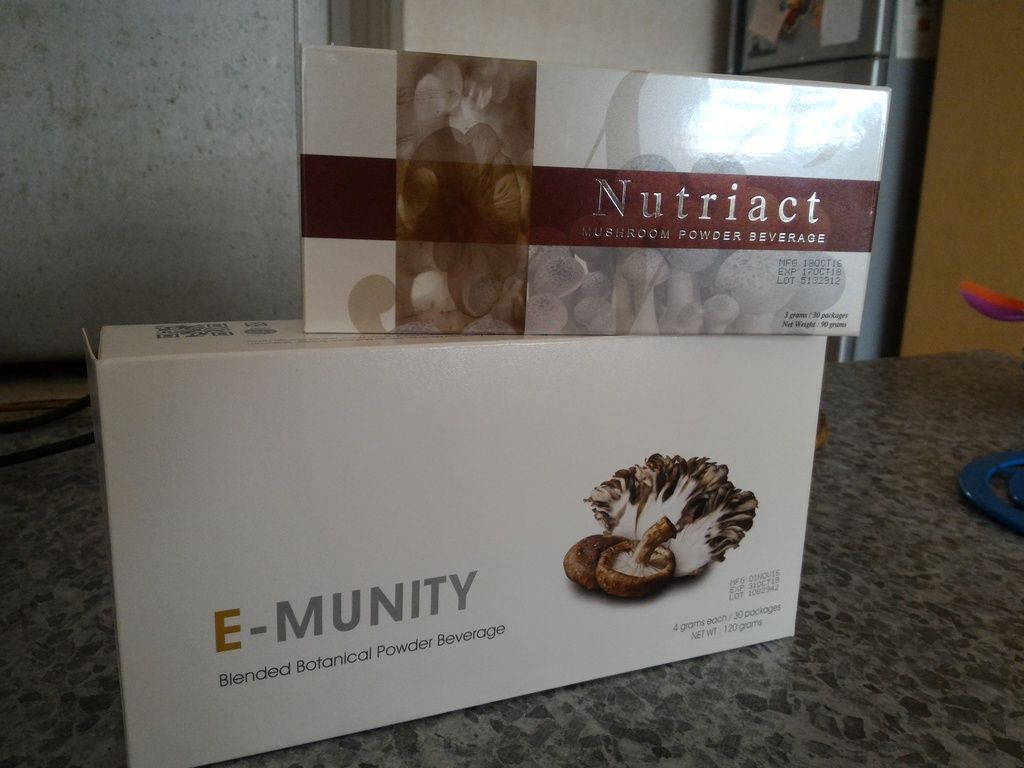 So keeping these 4 points in mind, let's look at two good quality mushroom supplements that I've tried and given to my kids: Nutriact and E-Munity. We'll be comparing them side by side in as many ways as I can.
Ingredients
Nutriact contains 4 mushrooms: Agaricus blazei murill, Lentinus edodes, Grifola frondosa, Ganodema lucidum, maltodextrin
E-Munity contains 4 mushrooms + 2 antioxidant sources: cassia seed, Cordyceps mycelium, shiitake mushroom, maitake mushroom, Brazilian mushroom, blueberry, natural lemon flavor, natural orange flavor, silicon dioxide
I can tell you that
Agaricus blazei murill is Brazilian mushroom
Lentinus edodes is Shiitake mushroom
Grifola frondosa is Maitake mushroom
So these 3 mushrooms are in both products. Both contain 4 mushrooms, but E-Munity has 2 additional ingredients, cassia seed and blueberry.
Let's look at the mushrooms that are not common in both products.
Ganodema lucidum (Nutriact) vs Cordyceps mycelium (E-Munity)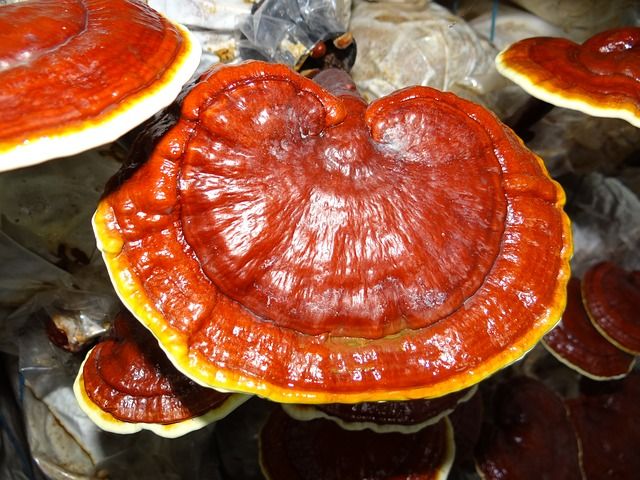 Ganodema lucidum is commonly known as reishi (in Japanese) or lingzhi (in Mandarin) mushroom.
Cordyceps mycelium is a different growth stage from the Cordyceps people usually eat. It has different nutrients from the fruiting body.
So why use the mycelium instead of the actual thing?
Firstly, it can be cultivated under controlled conditions, ensuring supply.
Secondly, only Cordyceps mycelium certified to have a certain amount of cordycepin can be used in order for a product to claim it contains Cordyceps. In China, Cordyceps mycelium cultivation is (surprisingly) strictly regulated.
Thirdly, unscrupulous wild Cordyceps suppliers add fillers or use harmful substances to preserve them after harvesting.
Lastly, soil pollution has inevitably led to heavy metal contamination in herbs like Cordyceps.
Caution!
Ganodema and Cordyceps should not be taken if you are going, or if you have just gone for an operation. They may result in excessive bleeding in this situation as blood will not clot as easily.
Cassia seed (E-Munity)
Cassia seed is used in traditional Chinese medicine. It stands out for its antioxidant and anti-inflammatory activity. Although it has been widely used in China for centuries, scientists are still discovering more about it.
For example, in 2016 a group of Chinese scientists reported in Natural Product Research that a group of phytochemicals called anthraquinones extracted from Cassia seeds can kill cancer cells. They even found a previously undiscovered anthraquinone in their study.
Blueberry (E-Munity)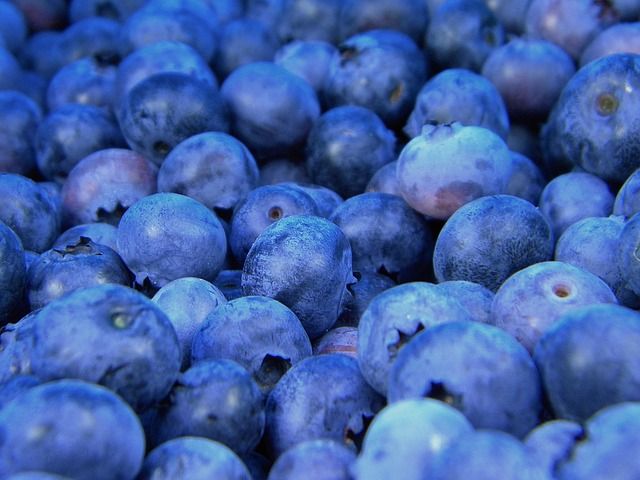 Blueberry is included in E-Munity for its high antioxidant activity. But did you know that blueberries also have anti-inflammatory activity?
Results of a U.K. study involving more than 2,000 participants showed that higher intakes of anthocyanins such as those in blueberry helped to reduce the risk of chronic diseases by fighting inflammation.
Additives
Personally, I'd feel better if there weren't any of the maltodextrin in Nutriact or flavors in E-Munity.
But looking at E. Excel's many other products, which don't contain any additives at all, you can probably assume they are necessary for product quality or to make sure you don't have to pinch your nose to drink E-Munity.
Silicon dioxide is listed on E-Munity as an anti-caking agent.
Usage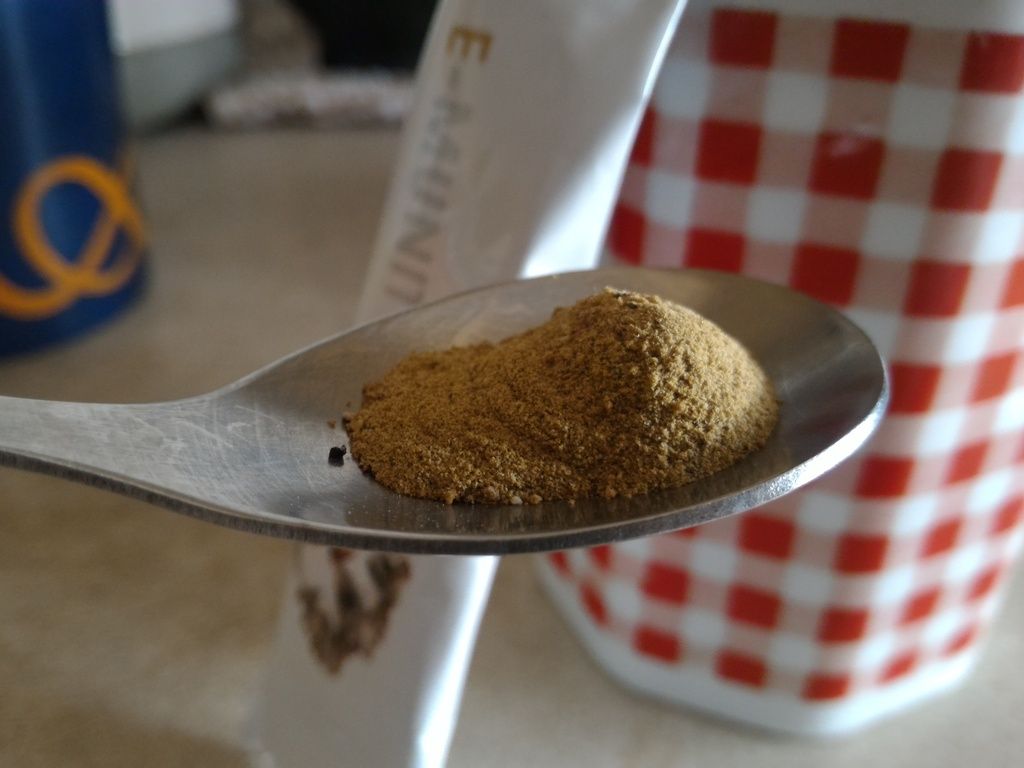 This is where your needs come in. It's all about suitability. For both products, the recommended serving is one sachet a day.
If you have concerns about taking a cooling supplement, Nutriact is ideal. In terms of comprehensiveness, though, you might need a separate source of antioxidants and phytochemicals if you are currently not getting enough of them.
Nutriact's savory taste complements almost anything: rice, porridge, pasta, soup, meat, vegetables.
Which is better for kids?
Based on my personal experience, Nutriact is better for kids as you can choose to give them as a drink or add to their meals. I do both!
Because we don't have any urgent need to, I don't give my kids Nutriact every single day. On some of those days, they drink Millennium.
Which is more suitable for adults?
Taste wise, E-Munity is better as a drink for adults due to the lemon flavor. The taste is reminiscent of Refresh, an E. Excel product which happens to contain mushroom and lemon.
The blueberry and cassia seed help me to get antioxidants, making E-Munity very convenient as an all-in-one supplement.
I would drink E-Munity first thing in the morning to give myself a boost to the immune system.
Manufacturer
The manufacturer for both products is the same. E. Excel International has manufactured health supplements for the past 30 years.
They have received many awards during this time, but you only need to talk to those who are using their products to know how reliable they are.
I once saw a few E. Excel products at a relative's house, and then at my friend's house. Another relative mentioned her family had gone vegetarian because of E. Excel.
So why make two competing products? Nutriact has been one of their star products for years!
Availability
The key is in the distribution. E-Munity, launched in 2016, is sold only online, through E. Excel's new company eLEAD Global.
Both products are from network marketing companies. Want to buy Nutriact long term? You might be better off buying it as a distributor, but you have to pay a joining fee (around 50 Singapore dollars) first.
E-Munity is easier to get in that sense. You don't have to pay any joining fee at eLEAD Global. Watch my walkthrough for buying E-Munity:
Price
At the time of writing, Nutriact costs 265.36 SGD after GST.
E-Munity costs 150 USD. After the 15 USD delivery fee and 2.9% PayPal charge, I had to convert to the total, 169.79 USD, to SGD. It's actually around the price of Nutriact BEFORE the GST, making it cheaper than Nutriact.
Which will I repurchase?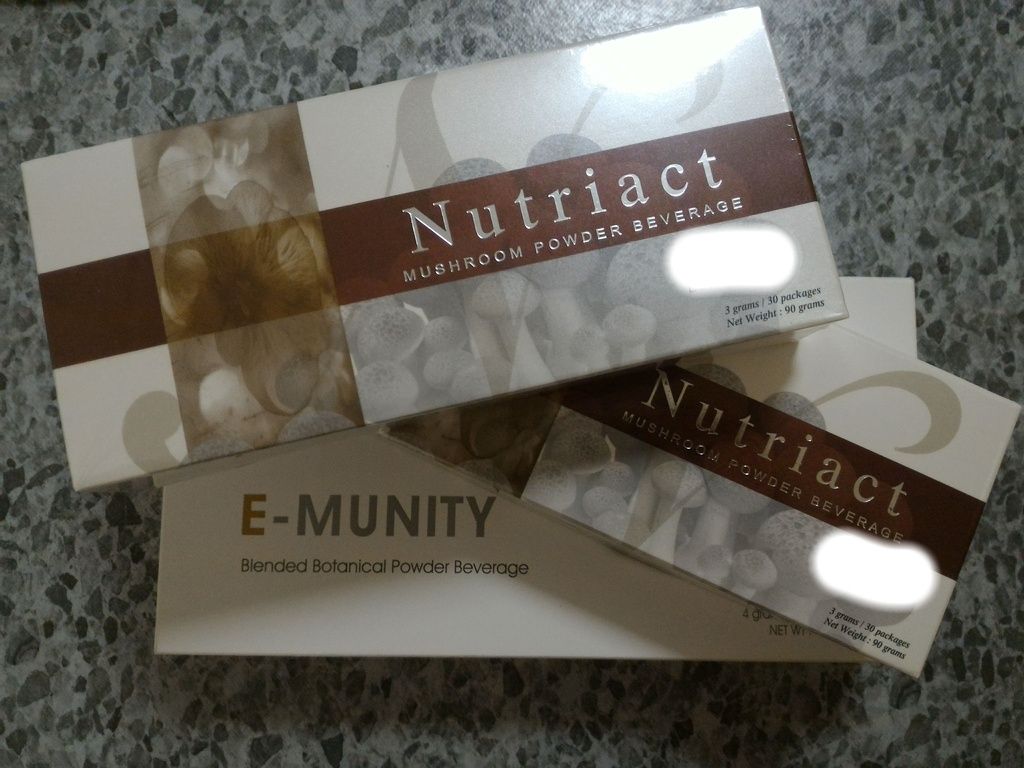 I have already bought 4 boxes of Nutriact for my son. Recently, I bought 2 boxes at a go.
As for E-Munity, I wouldn't mind repurchasing it for myself–if I buy it with other eLEAD Global products. I might do just that when I get Rhapsody, a cactus based immunity booster, to try.
This doesn't reduce the PayPal fee, but at least my delivery fee is spread out between the two products.
Prefer capsules?
Click here for my review of a source of 10 different mushrooms in their different growth stages.