I was really impressed with this product. The formulation caught my attention and I bought it. Get ready to level up your supplement literacy with this review!
Why Pure Essence Labs HealthGUARD Immune?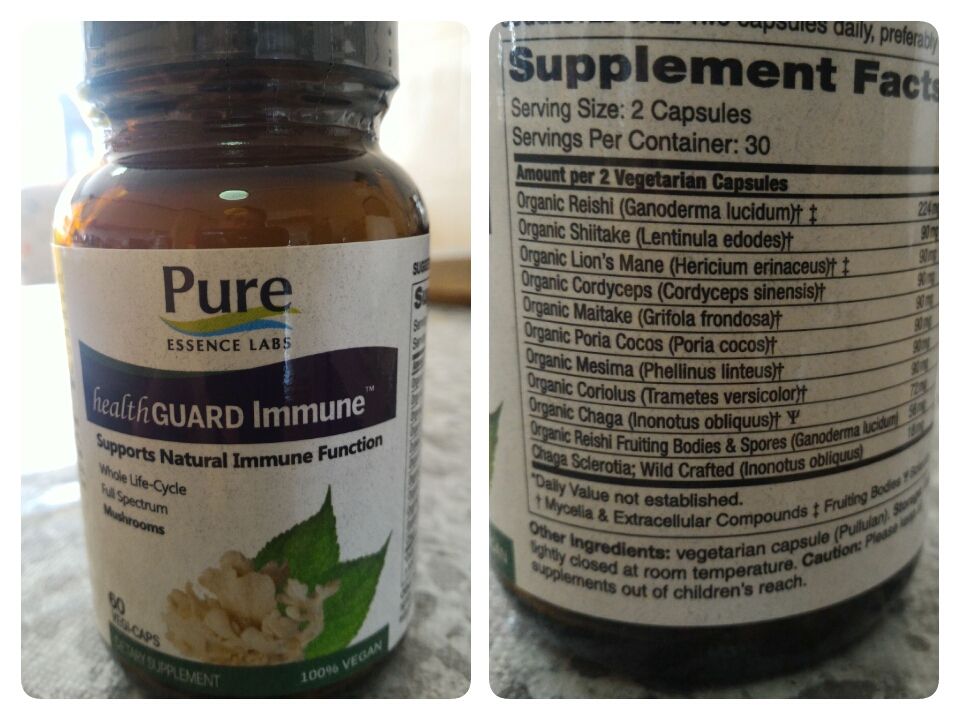 This is a product that contains not just 10 types of mushrooms, but in their different growth stages.
After 1 month
I took 2 capsules almost every morning with a cup of water. Watch this video to see how the 60-capsule bottle worked out for me:
What I like about it
Like other Pure Essence Labs products, it's formulated based on traditional Chinese medicine. I was amazed to know this.
Even more laudable is the fact that besides the mushrooms and capsule casing, there are no additives at all. This is really hard to find in the market today.
The formulation is contained in vegetarian capsule casings. Low risk of crushed product.
The inclusion of chaga–more about that below.
If you're not a fan of swallowing capsules, you can actually take out the powder and eat it. It tastes good!
What I don't like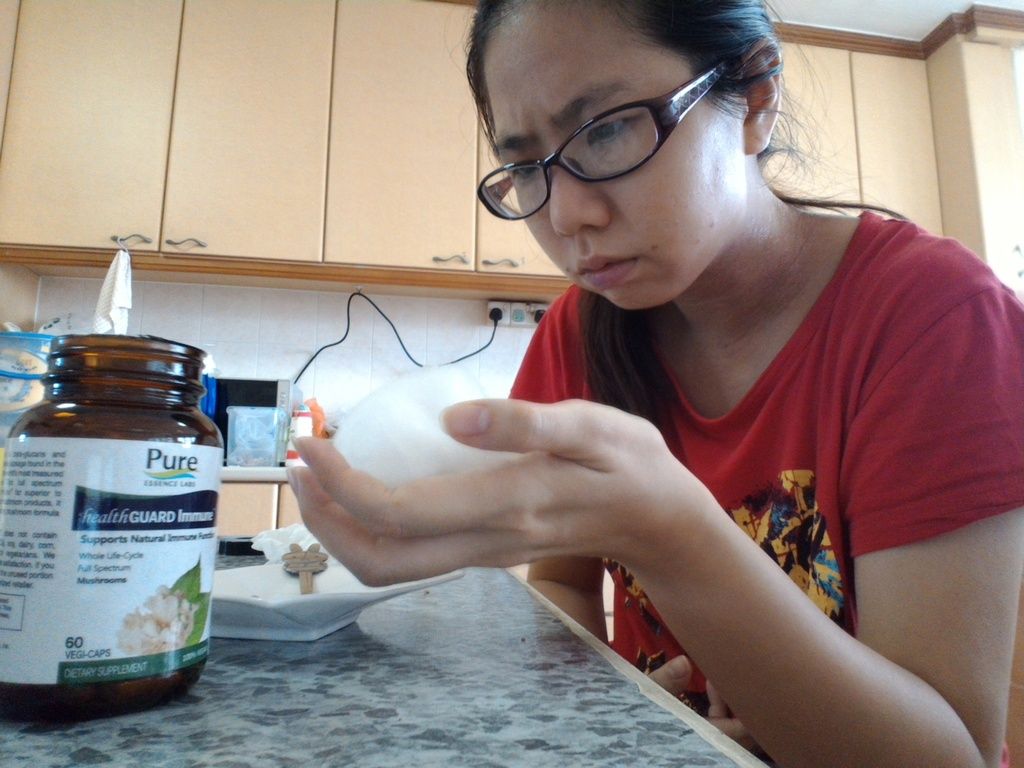 The glass bottle. However, I've been enlightened regarding this personally by Laine from Pure Essence Labs. Though plastic is lighter and less fragile, it's also less recyclable. Kudos to Pure Essence Labs for using glass so that we can all recycle the bottle. I'll be sure to do that after I'm done with it!
The cotton wool stuffed above the capsules. Is it there to prevent the capsules from moving around? No! It's for wicking away any moisture during storage so that the product doesn't spoil.
One bottle lasts you just one month if you follow the recommended way of taking the capsules.
Why do you need so many types of mushrooms?
Mushrooms are rich in a very special group of immunity boosting nutrients called polysaccharides. Every mushroom has a different polysaccharide combination.
They are also high in iron, which, if you're vegetarian, can help you greatly in getting enough iron in your diet.
In a balanced diet that nourishes the immune system, you need to eat as many different types of plant foods as possible.
Well, technically mushrooms aren't plants–they're fungi–but because each contains different polysaccharides, you are giving your immune system more comprehensive ammunition with a varied selection of mushrooms.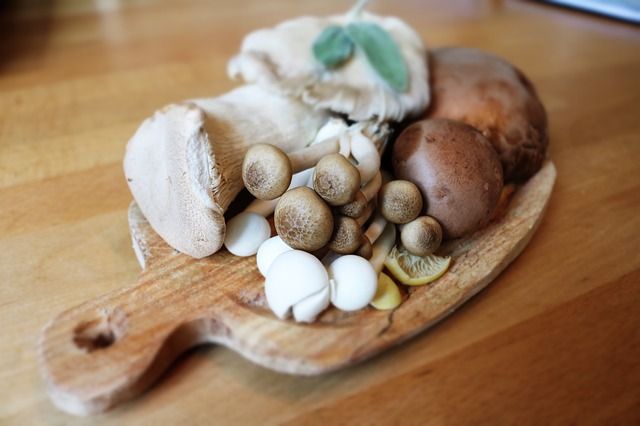 And guess what? Pure Essence Labs' healthGUARD Immune isn't the only product that's making use of this principle. I've come across several quality mushroom products that contain a variety of fungi.
Here's a sampling of what scientific research has revealed about mushrooms:
Cordyceps
In a lab study conducted on human dendritic cells, which are messengers in the immune system, scientists found that Cordyceps helps to balance the immune system. Under normal conditions, it trains immune cells to get ready for invaders such as parasites. During inflammation, Cordyceps can help to prevent the immune system from overreacting.
Shiitake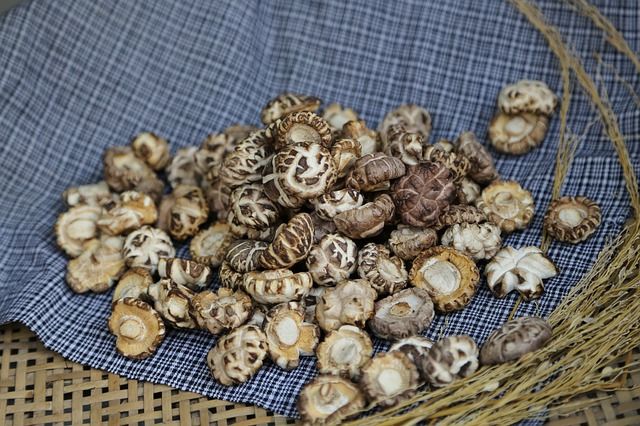 After eating 5 or 10 g of dried shiitake mushroom every day for 4 weeks, healthy adult volunteers experienced an increase in two different types of T cells. At the same time, these cells communicated better. Scientists also observed signs of lessened inflammation after eating the mushroom.
What is chaga mushroom for?
With respect to the immune system, chaga mushroom provides nutrients precious in the fight against disease.
Antioxidants
Scientists in Korea found that chaga protected human lymphocyte cells (a type of immune cell) from DNA damage due to free radicals.
Extracts of chaga grown in Russia, Finland, and Thailand showed powerful antioxidant and antimicrobial effects. The Russian extract is a traditional medicine there for treating tumors.
Anticancer effects
Talking about tumors, studies have shown that chaga has the ability to help the body fight against cancers of the lung, large intestine, stomach, and cervix, among others.
If you get a chaga mushroom product…
Try to get it freeze dried. Results of a study published in Food Research International in 2013 revealed that freeze drying chaga mushroom best preserves its polysaccharides.
The researchers compared the antioxidant activity of the polysaccharides in freeze dried chaga to those in chaga dried using hot air and vacuum and found that it could fight against free radicals better than the rest.
Questions?
Please feel free to leave a comment!