Here's my guide for what mushroom to eat to boost your immune system. First, we'll look at some of them, then look at some products that are great sources of immunity boosting mushrooms.
Why mushrooms?
If eating mushrooms for the immune system sounds strange, you need to get used to the idea quickly. It's unfortunate they don't teach us to eat our mushrooms in school, because mushrooms are rich in polysaccharides, which nourish the immune system.
Each mushroom contains different polysaccharides, and each polysaccharide has unique properties that are beneficial to the immune system, helping you to fight diseases. Let's check out some of them!
Lion's Mane Mushroom
For more antibodies
Lion's mane mushroom helps your body in producing nerve growth factor (NGF).
You'd be surprised by how important NGF is to the immune system. The name says it has to do with growing nerves, but NGF also encourages your body to produce antibodies and assign immune cells to fight specific enemies.
In a study conducted in Japan, volunteers who ate lion's mane mushroom for 4 weeks felt less depressed and anxious. Feeling more positive also benefits your immunity!
Shiitake Mushroom
For less inflammation
Inflammation causes many diseases, and shiitake mushroom might just help you to reduce inflammation so that your immunity improves.
Healthy people experienced improved immunity after eating dried, whole shiitake mushroom for 4 weeks. Their bodies produced more immune substances and immune cells. Their immune cells were also more responsive.
Maitake mushroom (Grifola frondosa)
Research published in Nature showed that Maitake extract brings down inflammation in the intestines, making it very useful for irritable bowel syndrome. Another Maitake extract increased the activity of natural killer cells in people with cancer.
In this day and age when carcinogens are everywhere, including our food, personal care products, roads, workplaces, and more, we need to reduce the cancer burden on the immune system with polysaccharides from mushrooms like Maitake.
Can you spot a good mushroom product?
Too many mushroom products contain only a single type of mushroom. Common examples include cordyceps and lingzhi. Unless you have specific health concerns, it's best to get a wide variety of polysaccharides from more mushrooms.
Here are three products you can start with. They're all suitable for vegetarians, who will especially benefit from the iron that mushrooms also provide.
Nutriact (E. Excel)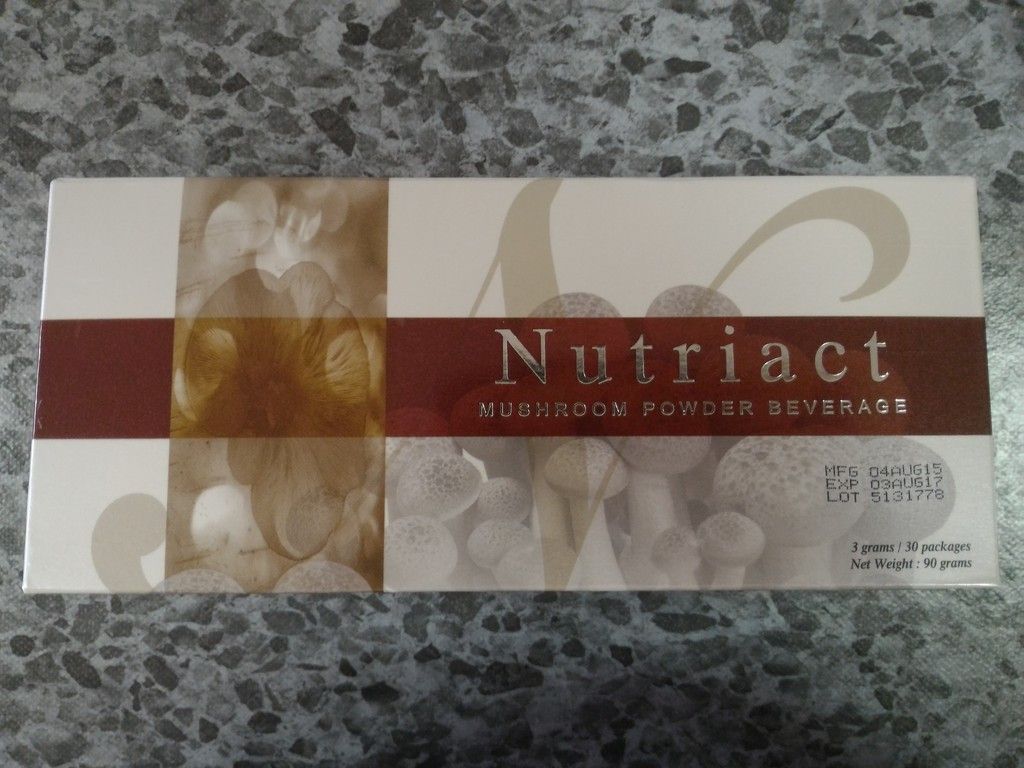 This product comes in three variants:
Nutriact (powder beverage)
Nutriact-II (fruit-flavored powder beverage–Personally, I don't fancy the taste at all!)
Nutriact Capsules
Great for
Busy people
Kids
Adding to meals for taste and nutrition
For the powder beverage: those who don't mind, or even like, the taste of mushrooms
Those who want to be assured of product quality, nutrition, and safety
Those in urgent need of building up their immunity
People who want to use mushroom products in cooking
People who are taking other E. Excel products, especially Millennium
Not so great
The most expensive of the three
Not so easily available as you have to get to an E. Excel distributor
Ingredients
Shiitake mushroom, Maitake mushroom, reishi mushroom, ABM mushroom, lingzhi
MycoProtec (Brand's)
A bottled drink that you take once a day. It's widely available in Asian markets so if you're in Asia, this may be easier to get.
Great for
Those who want to try out a mushroom product but don't want to commit to buying so many servings yet
Those who prefer ready-to-drink products
Those who don't like capsules or making drinks
Not so great
A lot of packaging so it's not so eco-friendly.
Bulky to bring home the glass bottles.
Not for kids (I called them up to confirm this.)
A few additives in the ingredient list (see below)
Ingredients
Shiitake mushroom, Maitake mushroom, lingzhi, cordyceps mycelium, lion's mane mushroom, vitamin C, cargeegan, maltodextrin, pectin, yeast extract, flavorings
Immune Renew (Now Foods)
A capsule product that contains a blend of 8 mushrooms, more than the products above!
Great for
Busy people
Those who dislike the taste of mushrooms
People who tend to have only a few types of mushrooms in their diets
Not so great
Not for people who don't like swallowing capsules, but I guess you could smash it before consuming!
Ingredients
Lion's mane mushroom, shiitake mushroom, sun mushroom, reishi mushroom, maitake mushroom, Cordyceps, Turkey tails, Phellinus linteus, Astragalus root extract
Buy it at Iherb.com: First-time customers enter WELCOME5 at checkout to get $5 off purchases.
References
Neurotrophic properties of the Lion's mane medicinal mushroom, Hericium erinaceus (Higher Basidiomycetes) from Malaysia.
The Immune-Neuroendocrine Circuitry:History and Progress, P 40.
Reduction of depression and anxiety by 4 weeks Hericium erinaceus intake.
Consuming Lentinula edodes (Shiitake) Mushrooms Daily Improves Human Immunity: A Randomized Dietary Intervention in Healthy Young Adults.
Grifola frondosa water extract alleviates intestinal inflammation by suppressing TNF-α production and its signaling.
Effect of Maitake (Grifola frondosa) D-Fraction on the Activation of NK Cells in Cancer Patients